Leia SEO Services
Get to the top of Google on a budget
Our AI works to optimize SEO for our 200,000 users every single day. Get in touch with us to learn how we can 10x your customer visits for just $49/month.
We make your life easy.
Whether you built your website with Leia or another service, let us help it shine. We've optimized SEO for over 200,000 websites since releasing Leia in 2018.
Check out what we give to everyone:
dns
Free Hosting (optional)
If you'd like to use our services, we can host your website with us for free! If you want to stick with your current host for some reason, that's totally fine.
verified_user
Free SSL
We provide free SSL certificates to all websites we optimize. This ensures that the traffic to your site is encrypted, which Google loves.
assessment
Google Analytics
To give you detailed insight into the improvements we make to your traffic, we'll get you set up with a Google Analytics acccount and install it on your site.
web
230,000
We've optimized 230,000 websites in the last 12 months.
remove_red_eye
1,500,000
Organic page views for clients this month.
show_chart
85%
Average increase in page views each month.
attach_money
$49
Get started for as little as $49 for one site.
AI Driven SEO for the win
We apply industry leading A.I. to your website in order to gain uncompromised insight into how your site performs relative to other competitors. Here's how it works:
code
1. We have a quick call
This is where we learn about your business and get some more information frm you.
format_paint
2. We make our first changes.
We'll add SSL, get you some free hosting, and apply our first tactical changes.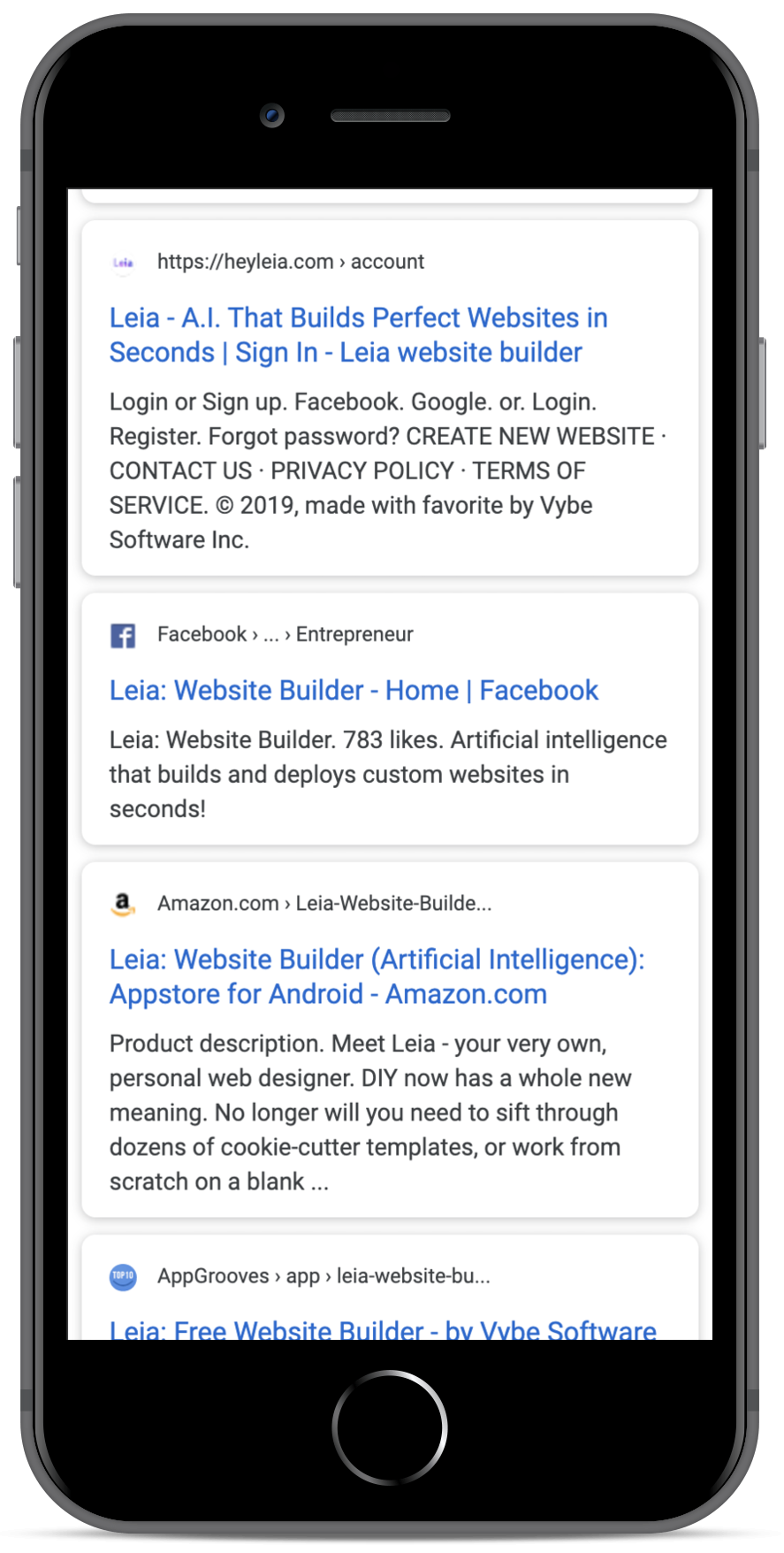 dashboard
3. We track progess
Your dedicated SEO specialist and Leia's A.I. will track your site and make changes. We will then provide bi-weekly reports on progress.
view_carousel
4. You get traffic
This is the best part. Watch as your traffic and conversions skyrocket!
Pick the best plan for you
Our A.I. enables us to do 10 times the work with 10 times the efficiency, which affords us the ability to keep you on budget.
Basic
$49 /mo
1 Website
Free SSL Protection
Free Website Hosting
Dedicated SEO Specialist
30 Day Money Back Guarantee
Get Started
Custom
Custom
Ulmited Websites
Free SSL Protection
Free Website Hosting
Dedicated SEO Specialist
30 Day Money Back Guarantee
Contact Us
Get in Touch
Let us know what you need! We're here to help.
pin_drop
Find us at the Vybe house
2403 E 14th Street
Austin, TX
United States
email
Email Us
leia@vybesoftware.com